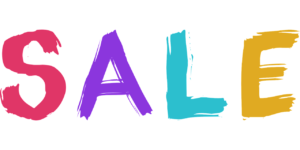 It's That Time of Year Again….
Summer vacation was fun, relaxing, unstructured and spontaneous, as it should be.  But now that the kiddos are back in school, and a more structured routine is settling in, it's time to bring some structure back to the areas of your home that need it most.
Whether your kids are year-round and have been back in school for a while, they are just heading back, or you have no kids at home at all, if you've been wanting to tackle a problem area, I'm here to help.
I am offering a Back to School sale through Sept. 30, 2019!  Book 4 hours or more with me before 9/30 and receive 10% off.  This offer is not applicable to packages which are already a great deal, and you just have to get scheduled with me by the deadline – not necessarily have a completed work session.
Head to my website here: https://sosbylisa.com/contact/ and contact me for a consultation.  It's that easy!
Back to School Tip:
Photo cred: https://theunlikelyhostess.com/command-center-ideas/
Two words for you:  Command.  Center.
A command center is a game changer for a busy family during the school year.  This is one example that I loved, and there are tons of ideas out there.  But what you really need to do is think long and hard about your family.  What is it that drives you nuts during the school year?  Papers?  Constantly strewn about the counters, or piled up in every corner.  Lost permission slips and snack calendars.  Library books getting mixed up with your own collection.  Or is it backpacks all over the floor that are making you crazy?  Whatever it is, pick and choose the ideas that address that particular problem, and you are on your way to a much happier school year.
Here are some things I love about this particular center, but again, pick and choose what works for you:
 The baskets at kid-level.  Get your kiddos in the habit of unpacking their folders and putting papers directly into the basket.  True, you do still have to go through them, but you have a better chance of finding that permission slip, and they're not cluttering your counters getting covered in marinara.
 The empty frames for artwork or important papers.  Again, this could be the go-to place for those important papers like permission slips, etc.  Or a perfect place for your little one to display what they are super proud of.
 The empty, customizable calendar.  This is critical if you have more than 1 kiddo in school and sports, etc.  Assign a different color to each family member, and know who needs to be where at just a glance.
 Finally, the list of items to remember as they head out the door.  Yes, this all depends on your students actually reading the list in the morning, but it completely eliminates the "you never reminded me" argument when something is forgotten.  Also, this works on husbands too – notice the "wallet" slipped in the middle there…. genius!
Upcoming Events:
If you're still feeling overwhelmed and not sure where to start, consider attending one of the classes I'm offering this fall: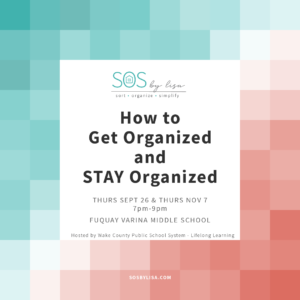 I will walk you step by step through how to sort through your items.  How to decide what to keep, and what to let go, and WHY.  How to reimagine your space to make it more functional for you and your family.  And most importantly, how to MAINTAIN your organized space.
Register for one of the dates here: https://cs.wcpss.net/index.php?route=lllcoursecontroller/course_detail&course_id=1702&cat=0
I hope your school year is off to a good start.  And with a little organization and a system or 2 in place, we can keep the momentum rolling!
Lisa 🙂