One thing's for certain, a day in the life of a professional organizer is rarely the same as one that came before! Whether you're thinking of working with an organizer, or just curious about organizing as a profession, this post pulls back the curtain for you!
If you've ever wondered what an organizer does, and what actually happens during a project — beyond the obvious "stuff gets organized" — you're not alone. Lots of people ask me about this; and some also admit to feeling afraid or embarrassed to ask!
While not exactly covering just one day, I hope this will dispel the mysteries.
Variety is the #1 Constant in the Life of a Professional Organizer
As a business owner, I get to set my schedule, and no two days are exactly the same. I do my best to limit organizing days to about 3-4 per week (though sometimes a full week of organizing jobs can't be helped!) That cap helps keep my energy and focus strong.
But that doesn't mean I work part-time! All the other aspects of running a business demand attention too. Bookkeeping, marketing, consultations and research to stay current, as well as research to ensure client jobs go smoothly all demand time.
"Getting Acquainted" Calls
Consultations, either virtually via Zoom or in person, are get-acquainted opportunities for a prospect and me. We each ask a lot of questions:
I'll ask about the person's general goals and challenges; they'll describe the space(s) to be organized, tell me about what's working and what isn't, and what they've tried in the past. Sometimes people will send me snapshots of the space they're concerned about (helpful!). We'll also talk about how involved they want to be, and their budget.
Prospective clients want to hear about my approach, and get a feel for whether my communication style and attitude is likely to be a good fit.
My #1 goal as an organizer: help people achieve their vision (even if they can't quite describe it!).
Laying the Groundwork
Once the client has decided to hire me, we delve more into issues, goals, and any parameters or preferences for the space. (Often people know what they don't want much more clearly than what they do.) Or, they are so overwhelmed by the space that they just can't conceive of ANY solutions, good or bad.
My role in every day as an organizer is to pull all those details together and make suggestions that solve functional problems, while creating a look they'll love.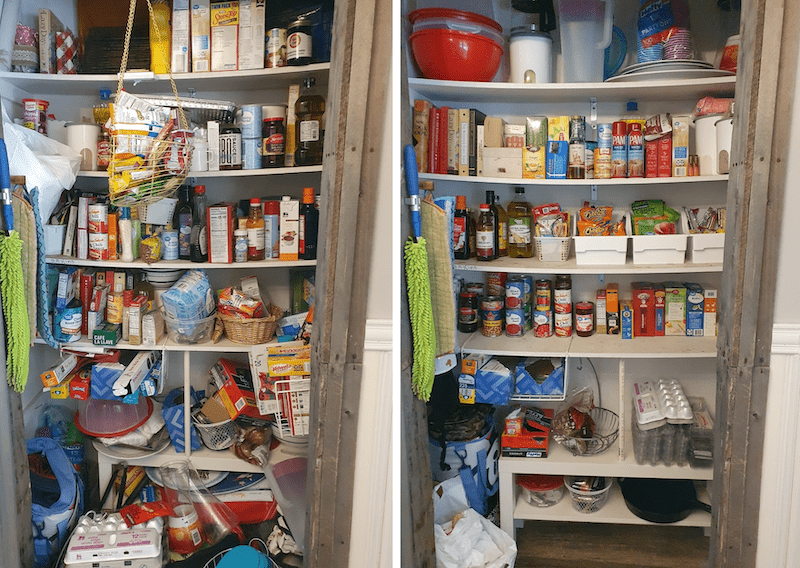 We may browse Pinterest or product websites to help firm up the look and feel a client wants—so eye candy is often part of the fun (for both of us). Of course, since function is paramount, I'm always happy to use what the client already has as well.  New and/or matching products give you a great look, but aren't a necessity for a successful organization job.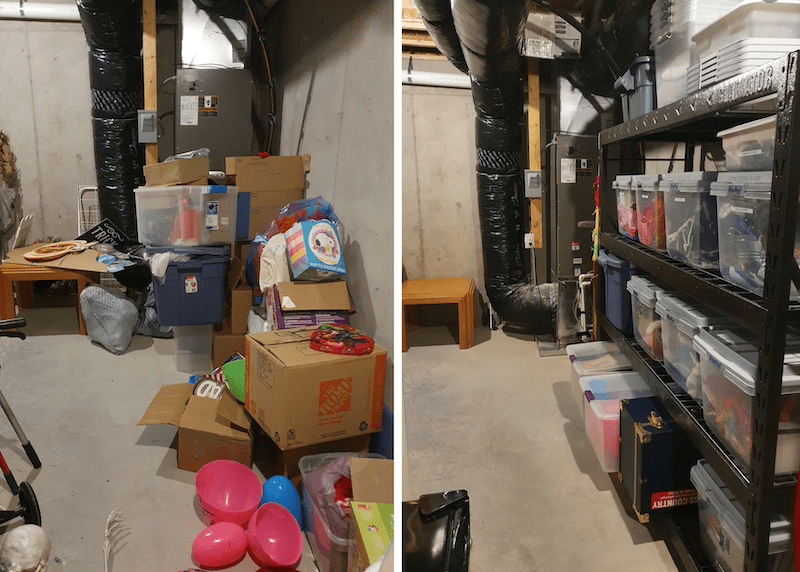 This is also the stage at which we discuss containers, and any related ballpark budgets for products to help achieve the results the client wants. I may ask for measurements of closets or other spaces, or take them myself if we're in person.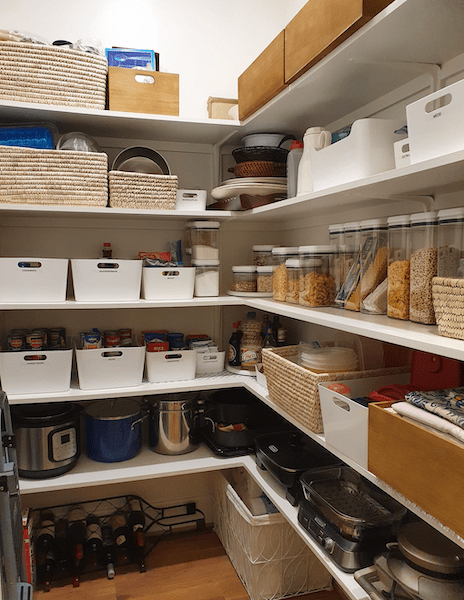 And, while some clients like to be involved in their organizing project—a "Done-Together" project—others don't want to. That's a "Done-For-You" approach, allowing clients to leapfrog certain steps. You'll see the differences in what follows.
Taking Stock
In both types of projects, the client and I often physically go through all the items in a space, talking through what will be kept and what will be donated or trashed.
This is where the client's part in a Done-for-You project ends. And some clients will have done this sorting before I arrive, making it a truly hands-off experience from the get go.
It's also one of the lesser-known aspects of my life as a professional organizer: I ask LOTS of questions to help clients achieve their goals—and we take our time.
Being sensitive to what's just under the surface is important, especially if the client is troubled with some mental blocks around clutter, be they emotional attachments, family routines/habits, or the issues with the space.
To ensure this stage is upbeat and enjoyable we keep an eye on the prize: the client's goals and vision. Once items are sorted, it's time to contain, and possibly label what's staying.
Rolling Up Sleeves
If the initial chat revealed that a client wanted new containers or storage solutions, I research and/or purchase what's needed before our first work session. In Done-For-You projects, you guessed it: clients leave the shopping to me!
Now we categorize all those wanted items:
"Done-Together": we go through and categorize the items that will be kept according to the person's or family's needs and goals.
"Done-For-You": I use what I've learned to do the same, without the client needing to be present.
Hands-off projects are most common for more emotionally-neutral spaces (e.g., a pantry, entryway, or office storage space). The client may want me to trash certain items (like outdated food), or remove anything above or below a certain size. Anything questionable I set aside for the client's review.
With or without the client, the goal is to contain items that need to be contained, and put things back in more functional spaces, maximizing space that had been unused or underutilized.
Finishing Touches
If, during the implementation stage, we've identified additional containers, etc., that would help, I follow up with links to product suggestions that the client can purchase and install themselves.
Even the most functional systems are likely to require a certain amount of upkeep, of course.
So, some clients decide to be kind to themselves and jump on my maintenance plan right from the beginning—this gives them 4 hours once a quarter for me to return to help corral whatever clutter has accumulated and restore the system for another season. I schedule these into my organizing days, too.
Hopefully you now have a sense of what a day in the life of a professional organizer is like: fun, challenging, strategy-filled, and creative, too.  And if you'd like to get started on an organizing project in your home or office, give me a call. I'd love to help bring your vision to life!